Microsoft Bookings Overview
Microsoft Bookings is part of the Microsoft 365 ecosystem (formerly Office 365/Microsoft Office) is Microsoft's appointment booking and scheduling tool.
The application was created with the vision of helping users better manage their time, and to integrate scheduling with other Microsoft resources such as Outlook and Teams.
An important point to note is that it is only available with Business Standard or higher plans. Many people may not know this because it is not clearly mentioned on Microsoft's website. When you get to the Microsoft Bookings page, you are redirected to the Microsoft 365 Business plans page.
On the plans page too, you could be forgiven for missing this detail. It is mentioned inconspicuously halfway down the page, once you scroll to the differences in plan features and click on the subsection entitled 'Tools to build and manage your business'. This lack of clarity is common to Microsoft 365 features as I will mention later in the conclusion.

My experience with the app
I initially subscribed to Business Basic (Microsoft's most basic business plan) only to find out that Microsoft Bookings was not included. I decided to upgrade for an additional $10 specially to get access to Bookings.
My initial impression was that Microsoft Bookings is very similar to other scheduling services available on the market. There is no downloadable software, and the system is entirely web based – but it is a great feature to be included along with Teams. The extra $10 was comparable with other standalone products of a similar nature.
My main goal for getting the app was to use it to book discovery calls with potential partners and clients, and to interview interns and book follow ups with them.
The first thing that struck me as odd was that the meetings were designed with a dollar ($) value assigned to each type of meeting option. I was able to select free meetings but that was not the default selection. Clearly, the ideal candidate for this service would be a professional or service provider that charges an hourly rate for their time i.e. a lawyer or accountant.
On the topic of customisation – the booking form is very basic and allows only limited options to match it your brand or website. You can add a logo, choose a time zone, include a data usage consent (or terms of service), and select one of the featured colour themes. If you are feeling adventurous, you can even pick two colours and make your own 'theme'.
I kept one of the colours white, because the square block behind my logo looked out of place.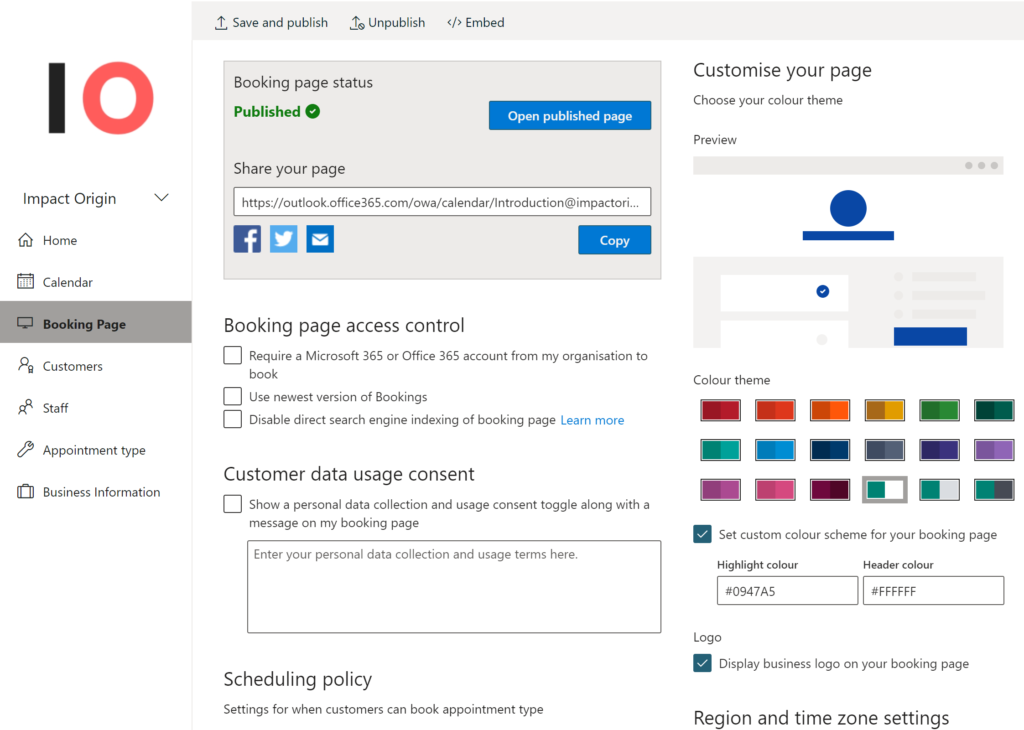 Once set up, I was looking forward to a comfortable booking experience. This was not to be the case because Microsoft Bookings had a few surprises in store for me.
A disappointing first use
Here are some of the complications I faced when using the platform for the first time (to interview potential candidates):
1. As I shared my invites, I was horrified to discover multiple people booking for the same time spot! It was the complete opposite of what a 'scheduling' platform should do.
After a bit of digging, I discovered that I had to select the number of seats for each time slot when creating a booking type. If not, each time slot was assigned 4 seats by default
Worse still, this could not be fixed. Once created, it could only be changed back to 2 or more seats. In other words, I had to let 2 people book the same time slot!
In my case, to avoid further embarrassment, I recreated a whole new booking page (making sure to select 1 seat per session) and asked my invites to rebook their appointments.
2. The person booking the appointment had to select my name from a drop-down menu, even though I was the only member on my Teams account. I learned that I could have selected myself as the default person, but that option was not pre-selected for me.
3. Finally, if your guest had a Microsoft, Live or Hotmail account, they were prompted to sign-in to their accounts to complete the booking or close their browser and restart the process.
Even after a booking was complete, the negative experiences continued. I'll save that for another review, specifically on the Microsoft Teams experience.
In Conclusion
The lack of clarity or focus on user experience is a recurring theme in all of Microsoft 365 products and learning how to use them requires a steep learning being able to use Microsoft 365 is a steep learning process. I did not list the many features that Bookings offers, because it is very similar to features available on other platforms such as Calendly.
As I pointed out in a previous review of Microsoft 365, the offerings are designed for the technically savvy individual. It requires a steep learning process and lots of patience, as Microsoft technicians have to go through a huge list of glitches to fix.
The product is also built for professionals who charge their client by the hour, or larger teams that need to communicate internally. They did not think to use the start-up entrepreneur as an example in their user personas.
For my taste, it offers a very bland experience. For example, many reviews point out that people use the chat features and emojis a lot more often on Slack than on Teams (a fact I proved through my own personal experience.) The Slack experience is also more organic.
As for the positive, I liked the fact that Bookings was a part of a larger ecosystem and worked (or was supposed to work) seamlessly. But this probably also Microsoft's biggest weakness.
The internet offers many specialized products that integrate well with each other. For example, I could recreate the same functionality using Zoom, Slack and Calendly that a Microsoft 365 plan offers, for a comparable price. These companies offer one core product, and these products are created with reliability and the end user experience in mind. If they fail to deliver, their entire business suffers. Microsoft, on the other hand, has many applications and products, and one bad product does not warrant the company to change its practice.
After a few initial uses, I have gotten used to Bookings and will continue using it for a while longer because Microsoft is announcing a key new feature soon. More on that in a future review!
Have you used Microsoft Bookings or a similar application? What was your impression? Please leave your reviews in the comments section.