Almost a month ago, I applied for a DUCA business banking account: a no-fee 'Start Me Up' business bank account. The onboarding process was easy and unbelievably efficient.
Fast forward to today, I find myself on the phone again, calling BMO to book an appointment.
So, what went wrong – or right?
My frustration with traditional banks
I first heard of DUCA because of the frustration of dealing with my local BMO branch, and specifically their problematic online booking system. I showed up for an appointment at BMO one day, a week after booking it online on their site, only to be told the request did not go through. The earliest I could speak to someone was a week later. I found it disappointing, to say the least, considering the efficiency of conducting business online these days and the general attention to online user experience.
My frustration led me to research other options. I thought I hit the jackpot with DUCA: not only is a no-fee option a rarity these days, but I try and support Credit Unions on principle against the Canadian big bank oligarchy wherever possible.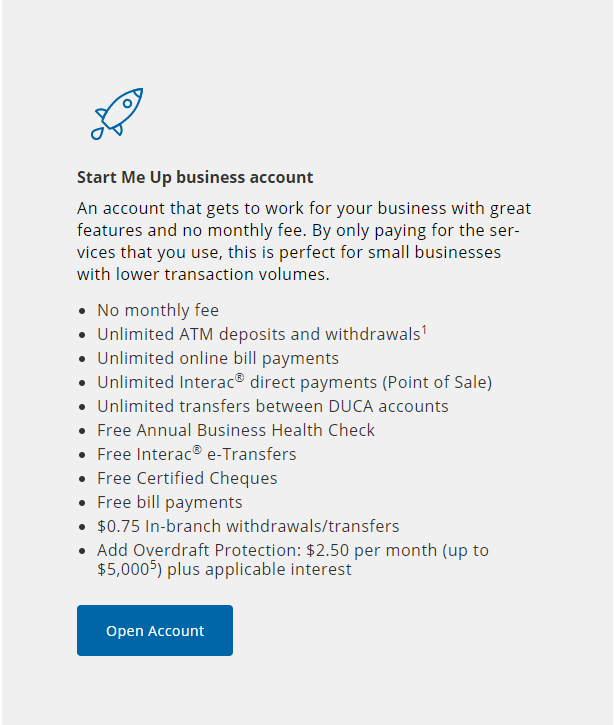 The DUCA experience
The onboarding on the DUCA website was straightforward and effortless. It took me around 20 minutes to complete all the forms and upload all required documents. There was no mention of an in-person meeting, but I received an email the next day from a banking officer at the closest branch, asking me to come in to complete the setup.
I was impressed by the speed of the process and an email from a human at 9:20 AM the following day. I was slightly annoyed at having to go in-person to Yonge and Eglinton, which happened to be one of the only two branches in Toronto, but it didn't seem too unreasonable.
Once I made it to the branch, the process was painless. It took another 20-30 minutes of signing documents and providing IDs. Since I had uploaded all the documentation in advance, it was easy.
I did, though, have to bring in a physical $1 (or in my case: nickels, and dimes) to pay my membership dues. I cannot remember the last time I've carried or used coins, or at least not since the beginning of the pandemic.
That was not the last of the surprises. The final unsettling revelation came in the form of the banking officer asking me if I wanted a physical card or a printout. I found out – a little too late by then – that their debit card was neither supported by Visa or Mastercard, nor could it be used to make purchases online. I could apply for a credit card, but I was told to provide 2 years of financial history, which – as a startup (clue: bank account type) – I did not have.
Here is my summary of the pros and cons of setting this account:
| | |
| --- | --- |
| PROS | CONS |
| 1. No monthly fees | 1. Bank card does not support online payment. |
| 2. Unlimited ATM deposits and withdrawals | 2. In-branch visit required. |
| 3. Unlimited Interac transfers | 3. Very few local branches |
| 4. Seamless onboarding process | 4. A very basic banking app |
At month-end, I noticed a fee of $0.75 for the $1 deposit I made. I sent an email to my banking officer and received an apology. It was due to an entry error made by the teller, I was told, and corrected immediately.
So, I am back to calling BMO again to set up a business account. Their cashback credit card also looks great, as it gives you cashback for spending on things like gas, internet, and cellphone. They also have a no-fee option for now.
In conclusion, I enjoyed the experience with DUCA but found the product missing a key feature that did not have to be excluded. I was willing to pay a one-time fee for a Visa or Mastercard business card, or the ability to make purchases online. However, since this is a no-fee option, I will hold on to the account and use it as a 'payroll' business account and set up the secondary (BMO) account for payments.
If your business is a cash-intensive business, make sure you live close enough to one of the branches to make those regular deposits and withdrawals. In my opinion, this is an account for new or small businesses that provide a product or service and collect and make payments through Interac transfers only.
Have you set up a business account with DUCA or a local credit union? What was your experience? Please share in the comments section below.