After months of steady gains, and record prices that seemed to defy a global pandemic and the ensuing economic uncertainty – the value of bitcoin and other cryptocurrencies came crashing down on Wednesday, May 19th, in response to an earlier tweet by Elon Musk and news that China has banned financial institutions and payment companies from providing services related to cryptocurrency transactions.
In a tweet on May 12th, Musk shared that Tesla will no longer accept bitcoins due to the cryptocurrency's 'high environmental cost'. The statement, shared on behalf of the company, stated that they were "concerned about the rapidly increasing use of fossil fuels for Bitcoin mining and transactions, especially coal."
The crypto sector, which includes Bitcoin and other cryptocurrencies such as Dogecoin and Ethereum, lost a combined market capitalization of $1 trillion at one point on Wednesday.
The news came as a shock to investors and followers of Musk, the influential founder of Tesla and SpaceX; since he seemed to be championing the case for Bitcoin and the meme cryptocurrency, Dogecoin, for months leading up to Wednesday's announcement.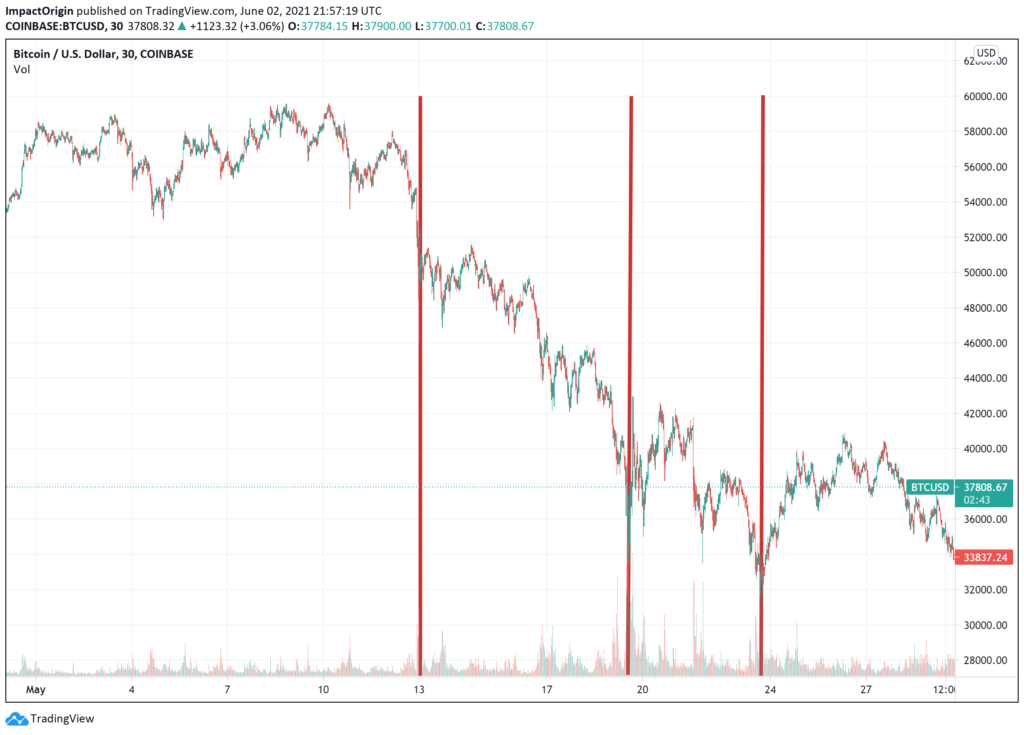 Bitcoin, which accounts for roughly 40% of the cryptocurrency market, was worth US$65,000 in April of this year; its best month ever – in terms of value – since its inception in 2009.
As the week progressed, the crypto market received more unwelcome news from across the globe – in the form of the Chinese government's ban of all non-state issued crypto currencies. Prices were at their lowest by Monday 24th, as investors had time to think over the news, and when most long positions were liquidated.
These events have resulted in reduced demand for bitcoins and raises questions over the valuation of cryptocurrencies in the long term. It is also a major roadblock to their acceptance by institutional investors and government regulators.
The crash has wider implications on the financial market, given the leverage embedded in crypto stocks. Despite the setbacks and the extreme volatility of the currency, Bitcoin seems not to have lost its dedicated support base, who continue to hold on to the currency for the long term.