SEATTLE – Jeff Bezos, the man who created Amazon inc. in 1994, has announced he will be stepping down from his current position as the Chief Executive of the company.
Mr. Bezos, who initially ran the online book retailer out of his basement, spearheaded it into one of the largest and most succesful companies today, employing 1.3 million individuals worldwide. Today, Amazon retails every conceivable product, including its own line of products and electronics, but also provides cloud services, online streaming, and advertising.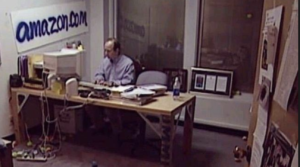 Amazon also made Mr. Bezos a very rich man; helping him generate a fortune of $196.2 Billion, and making him the world's richest man by some estimates (such as Forbes).
He has, however, made it clear that he will not stop working – but will instead focus on his other ventures: the Day 1 Fund, the Bezos Earth Fund, Blue Origin, The Washington Post, and his other passions.
I've never had more energy, and this isn't about retiring.

Jeff Bezos, CEO, Amazon.com, Inc.
"I've never had more energy, and this isn't about retiring. I'm super passionate about the impact I think these organizations can have," he said in a letter to Amazon staff.
Andy Sassy, the current head of Amazon Web Services, will take over as the company's new Chief Executive.